My Lupus Advocacy Work: An Interview With Racquel Dozier
Our Editorial Team spoke with Racquel Dozier, an advocate for the Lupus.net community who has been writing about her lupus journey for our community since 2020.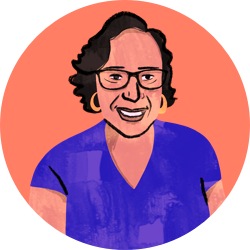 Racquel was diagnosed officially with Systemic Lupus Erythematosus in 2004, but the onset of her disease started in 2002 when she was given a diagnosis of rheumatoid arthritis. Many of her articles reflect on her experiences with the condition, ranging from self-love to food journaling.
In this interview, we talked to Racquel about her work in lupus advocacy, both on and offline, and how it played a role in helping her cope with the chronic condition.
"Lupus In Color and the Butterflies of Hope Support Group" is a support group Racquel started for lupus warriors and their supporters. Their goal is to provide an encouraging support system for lupus warriors.
What inspired you to create your support group?
Racquel: "I always say out of necessity comes creativity and that was definitely true for me. When I was first diagnosed, I didn't know anything about lupus. I knew no one with lupus in my town or personal circle. I vaguely remembered a woman I went to college with that was said to have passed away from lupus, but I had no real knowledge of what it actually was. When I looked for help in understanding what lupus was, I was met with a lack of information and little help. It was the worst feeling to be alone and confused about the new life-altering disease in my life. It was at that point that I vowed to do something about my own loneliness in lupus and I founded Lupus In Color and the Butterflies of Hope Support Group. I created the group to prevent other lupus warriors from feeling lost and alone in their new diagnosis as well as to educate and encourage other lupus warriors."
Why are support groups or online communities so important for people with lupus?
Racquel: "Lupus can be a lonely disease to deal with alone. I believe fully in the power of community. I think that support groups provide strong connections to other lupus warriors. These connections are important for lupus warriors to be able to relate and gather strength. Support groups can give those in attendance an opportunity to release feelings, share experiences, get coping strategies, and get educated about their disease. Attending a support group can help with the emotional and mental strain that can overtake a person in between medical appointments. Support groups are great to bond with other attendees in a safe supportive understanding environment."
What should people know before joining?
Racquel: "When I was diagnosed with lupus, I looked for an uplifting environment for support. When searching for a support group one should look in accordance to their need. Before joining the Butterflies of Hope Support Group, I would advise that lupus warriors try out some of the meetings to see if the group meets what they need in their lupus journey. In creating the group, I wanted lupus warriors to feel empowered and refreshed from attending. Expect to go through a plethora of emotions, but know that you will leave the support group educated, inspired, encouraged, and empowered to defeat lupus day today."
Who can join, when do you meet, and how can people sign up?
Racquel: "Lupus In Color Butterflies of Hope Support Group is for lupus warriors and their supporters. Although we are a lupus support group, we understand that those with other autoimmune disorders or other chronic illnesses may benefit from the group. All are welcome and will be embraced during our group sessions. Since many lupus warriors have more than one autoimmune disease, those who attend may find support from the session. If anyone is interested, sign up for the support group can be found at Lupus In Color."
What does advocacy mean to you?
Racquel: "There are so many things we can do when we are diagnosed with a life-altering chronic illness and I believe advocacy is the most important. Advocacy to me is being a voice of intention and purpose with passion. It is communicating needs through awareness and action for yourself and those who need it around you. For me, advocacy is a sense of self to responsibly stand up for you and most of all others. Advocacy is an action that perseveres beyond just personal needs for a much greater good."
This article represents the opinions, thoughts, and experiences of the author; none of this content has been paid for by any advertiser. The Lupus.net team does not recommend or endorse any products or treatments discussed herein. Learn more about how we maintain editorial integrity
here
.

Community Poll
Have there been things you have learned along your lupus journey that you wish had been explained to you by a healthcare provider earlier?