Managing the Unimaginable: Lupus Symptom Control
Last updated: January 2023
A lupus diagnosis can be scary and confusing. Managing lupus can be overwhelming for the newly diagnosed as well as the warriors who have been fighting for years. Unless you are living with lupus, it can be hard to understand how it ravages the body. Our 2nd Lupus In America survey showed us what it is like to live with lupus. Time to take a deeper look.
Seeking lupus symptom relief
Not many people with lupus feel their symptoms are controlled under their current treatment plans. Those whose lupus is not as well controlled as their counterparts' include people struggling due to COVID-19 and the 63 percent who also have another autoimmune disease. Other people are just not confident that they are doing all things necessary to manage their lupus.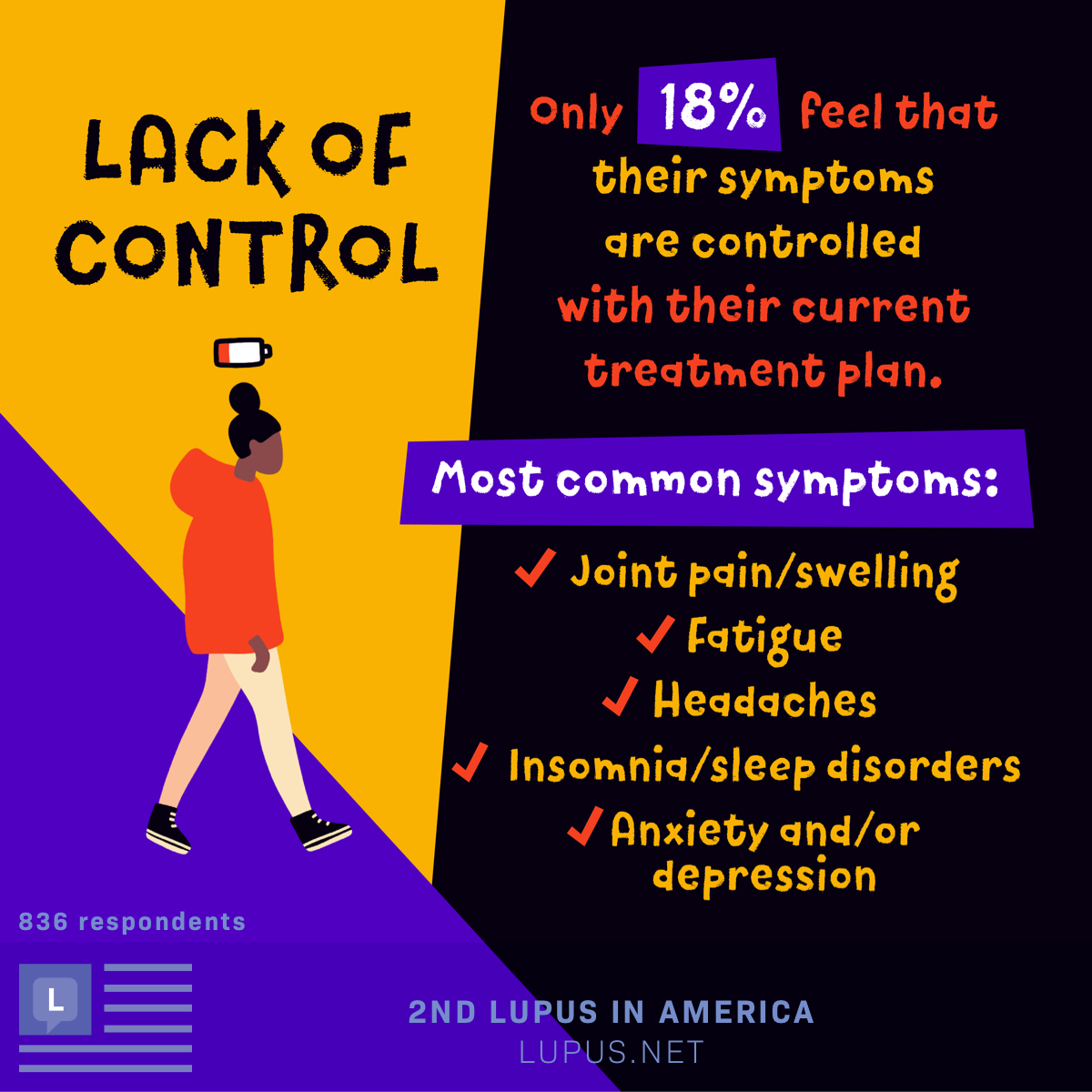 Lupus treatment options
People with lupus have experience with a variety of treatments, including specialty drugs, surgery, and complementary and alternative therapies. However, it can still be a struggle to overcome unexpected flares and symptoms. Two-thirds of survey participants said they rely on their doctors' recommendations. Here are the most commonly used treatments.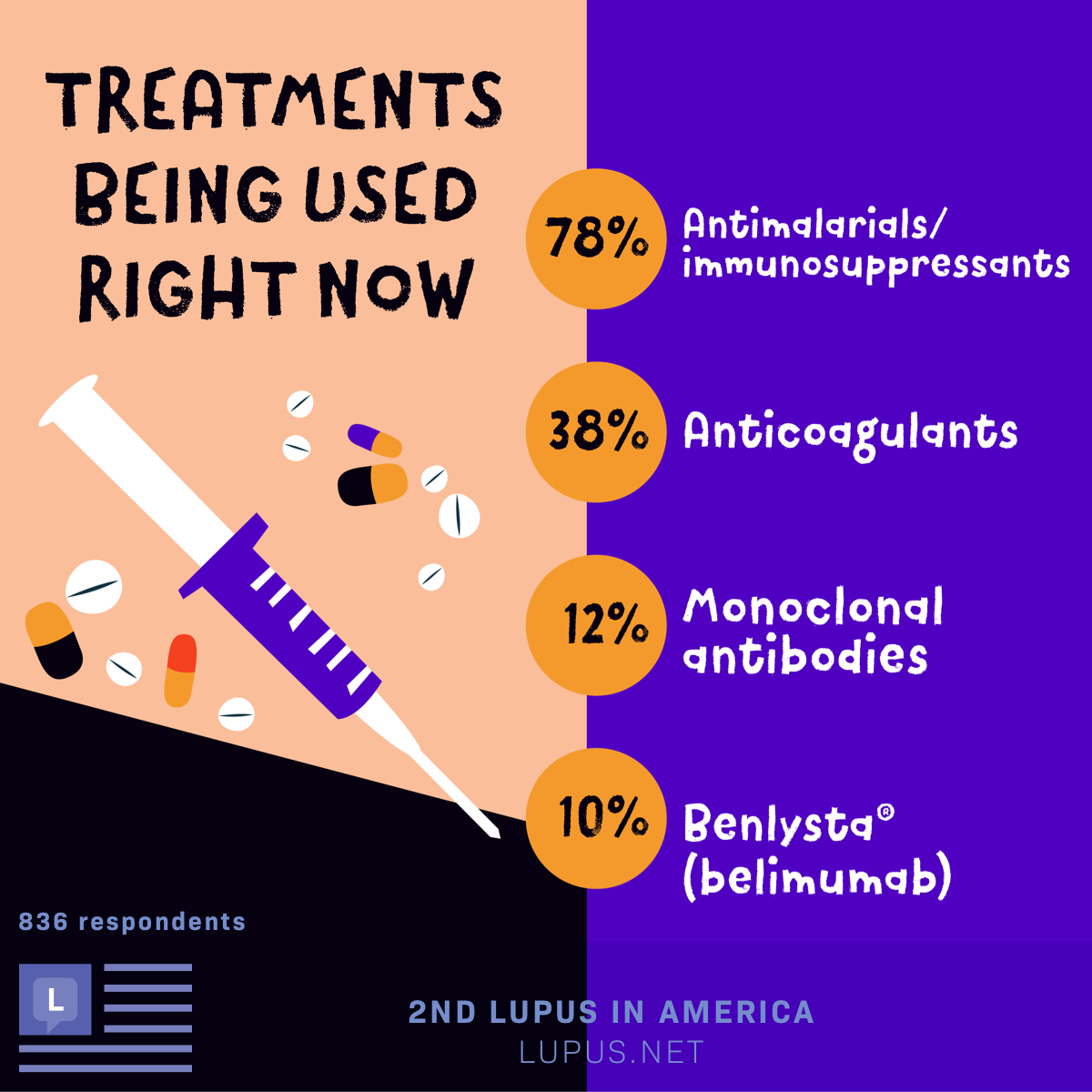 Alternative lupus treatment options
Aside from prescription drugs, infusions, and surgical procedures, people living with lupus frequently:
Use rest or sleep to manage fatigue
Limit their light exposure to prevent flares
Take over-the-counter medications
Use heat therapy to manage pain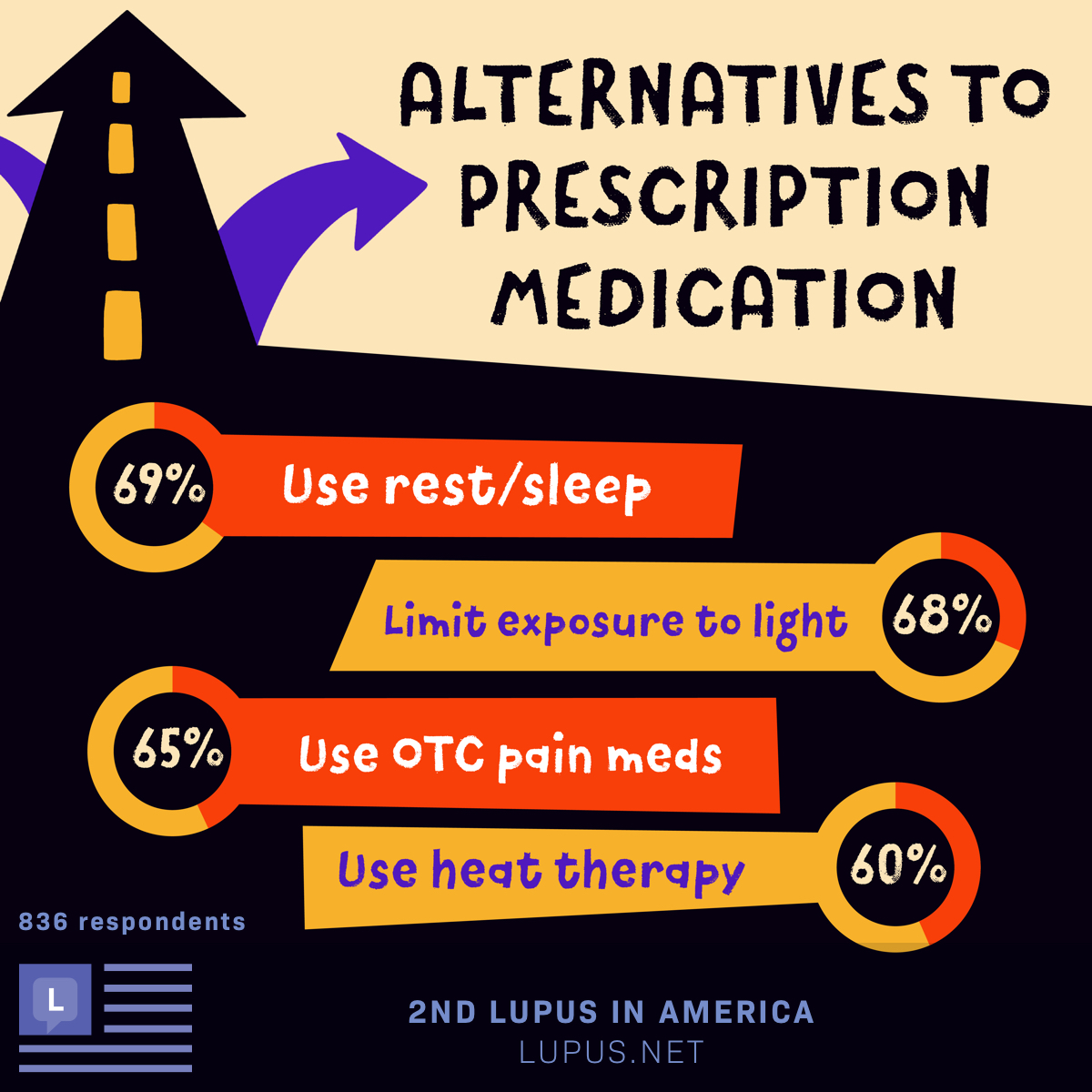 Looking back on lupus symptom management
It is tough not to look back on earlier decisions and wonder, "Was that right?" More than 8 in 10 wish they could have done things differently when managing/treating their lupus.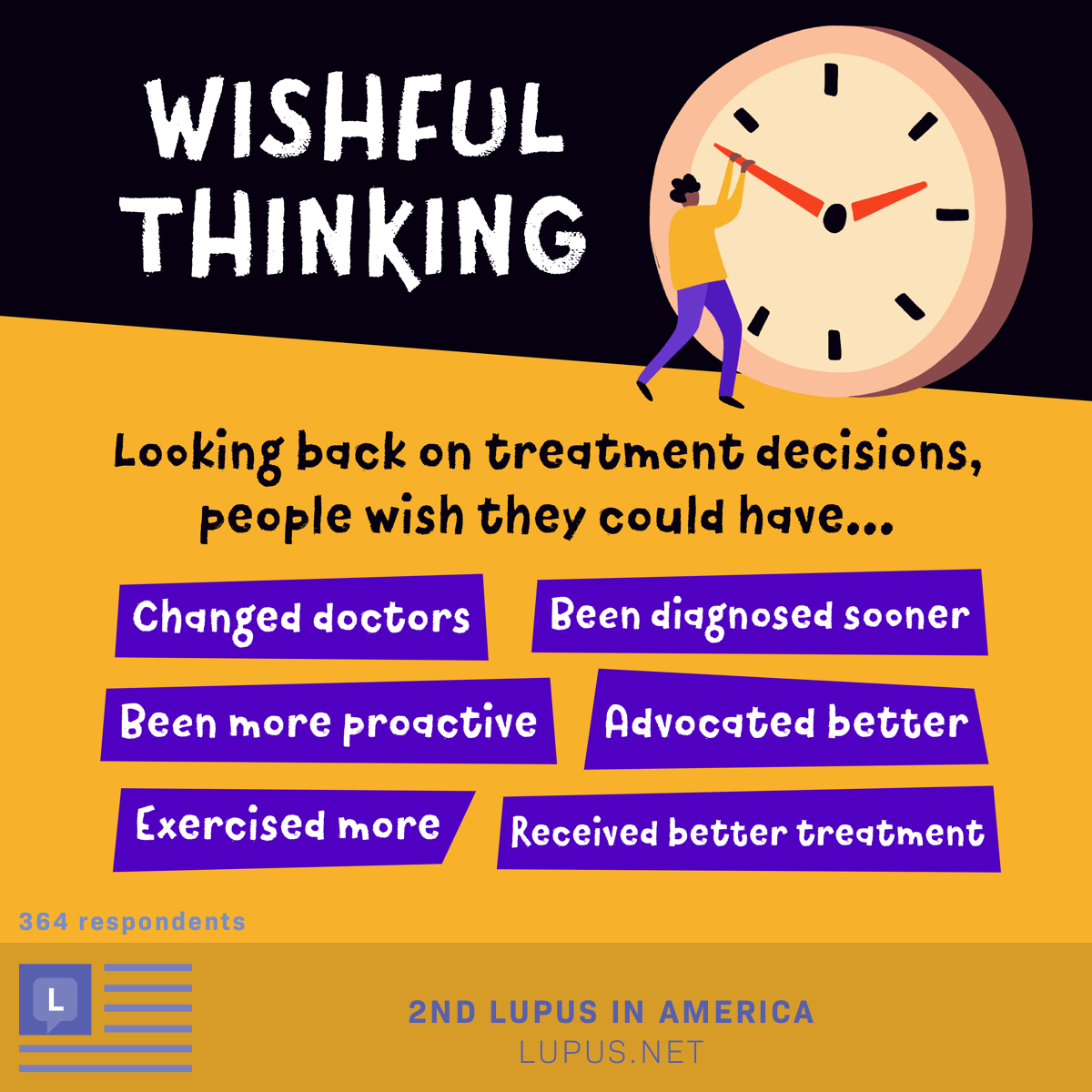 Confidence in managing lupus symptoms
Among those who took the survey, people ages 50 and older reported greater control of their lupus along with fewer symptoms and flares. They also shared that they have greater confidence managing their condition.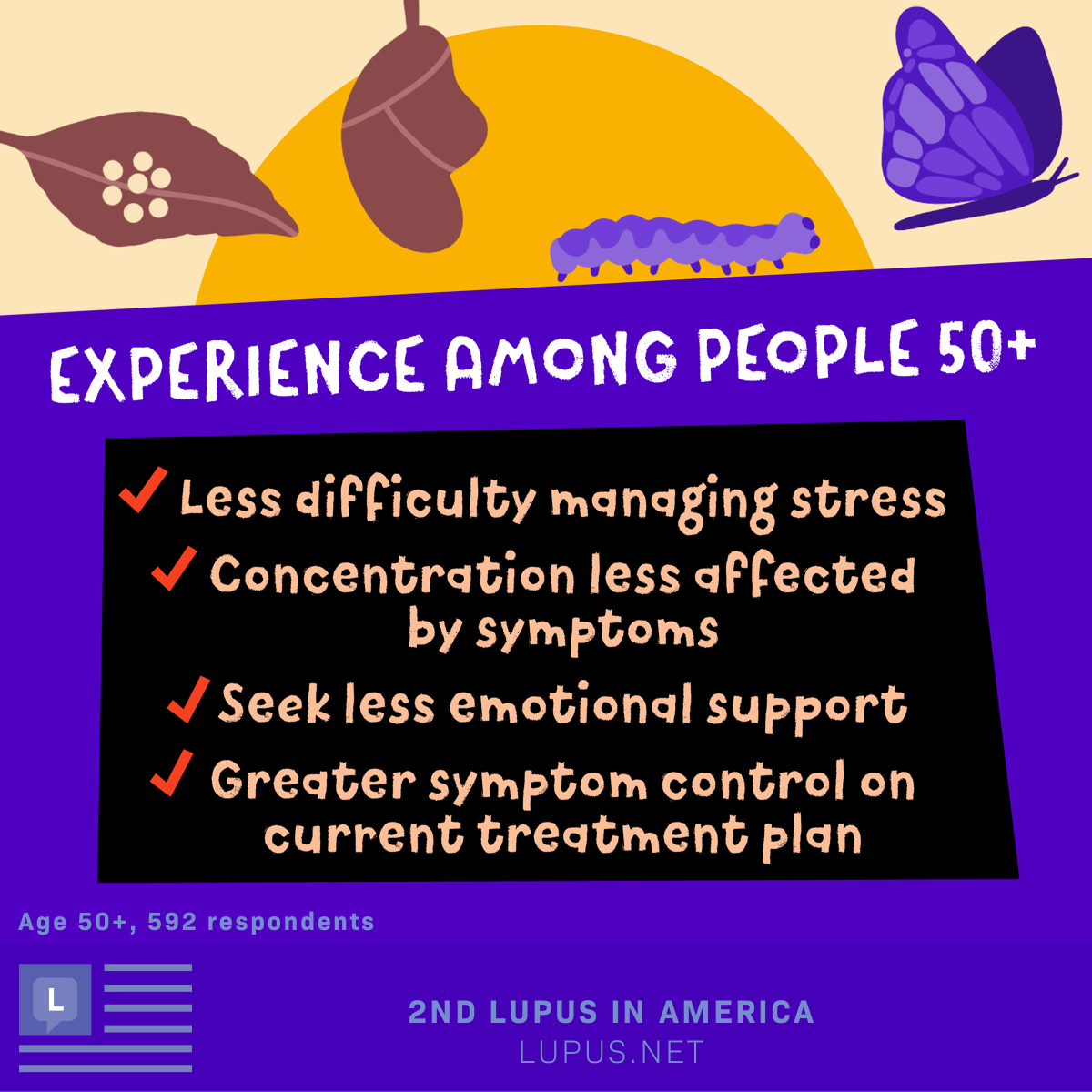 The Lupus In America 2021 survey was conducted online from February through March of 2021. Of the 836 people who completed the survey, 592 were 50 years or older, 95 percent were women, and 5 percent were men.

Community Poll
Have there been things you have learned along your lupus journey that you wish had been explained to you by a healthcare provider earlier?