Anti-Inflammatory Kitchen Kit Giveaway
The Anti-inflammatory Kitchen Kit Giveaway is now closed. Thank you for your interest!
We are recognizing Lupus Awareness Month with an extra-special giveaway. Diet and nutrition play a big role in reducing inflammation and managing flares. This Lupus Awareness Month we are giving away an Anti-Inflammatory Kitchen Kit!

This or That
Have you tried integrating the anti-inflammatory diet into your routine?
The prizes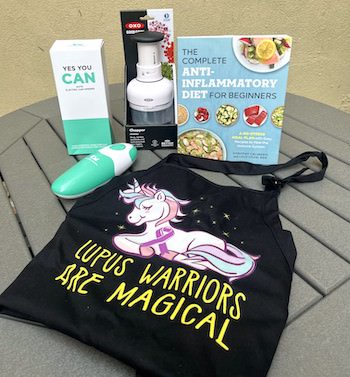 "Lupus warriors are magical" apron
The Complete Anti-Inflammatory Diet for Beginners: A No-Stress Meal Plan with Easy Recipes to Heal the Immune System cookbook
OXO Good Grips Large Chopper: Easy-to-use chopper with a soft knob, thoughtfully designed for people living with joint pain
Kitchen Mama Electric Can Opener: One-touch can opener designed for people with joint pain and difficulties gripping
For more information, please read our Terms and Conditions. Good luck!

Community Poll
How are you most likely to respond when someone offers you unsolicited advice about your lupus?