Expectation vs. Reality: The Impact of Lupus on Quality of Life
Last updated: March 2022
"But you don't look sick," is what so many people living with lupus are told. Our 2020 Lupus In America survey revealed what it is like to live with a chronic condition that has been described by people as "frustrating, exhausting, and hell." It is no surprise that its all-encompassing nature negatively affects the quality of life.
Support makes a difference
More than half of people with lupus say help with household duties and emotional support matter most. Many do not feel satisfied with the help they receive. This could be because many people living with lupus report having a tough time asking for support from family and friends.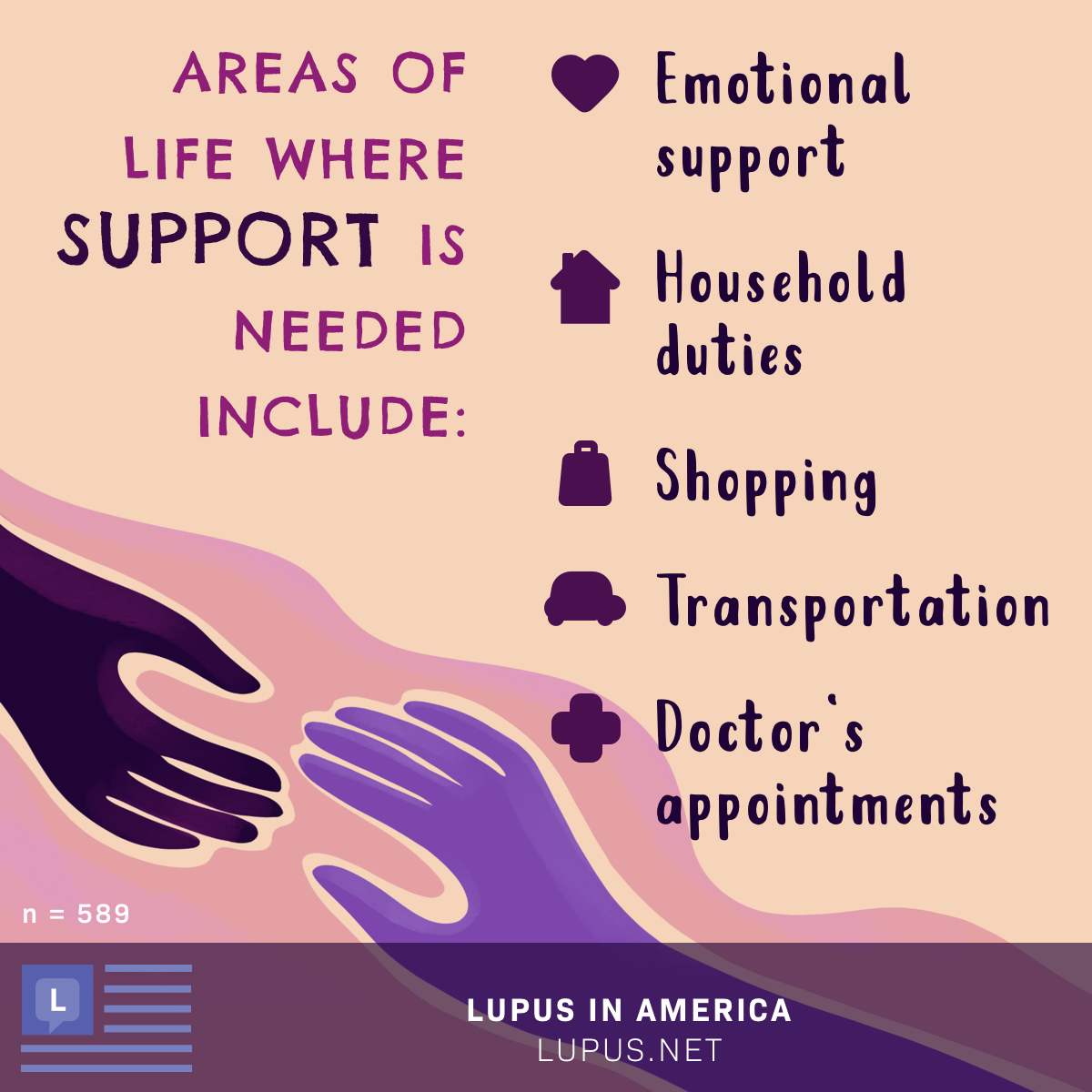 Work is not always possible with lupus
Thirty percent of people surveyed work full-time, and 7 percent work part-time. However, more than 6 in 10 people feel their lupus interferes with their ability to work. People who took the survey reported missing 6.2 hours of work in the last 7 days.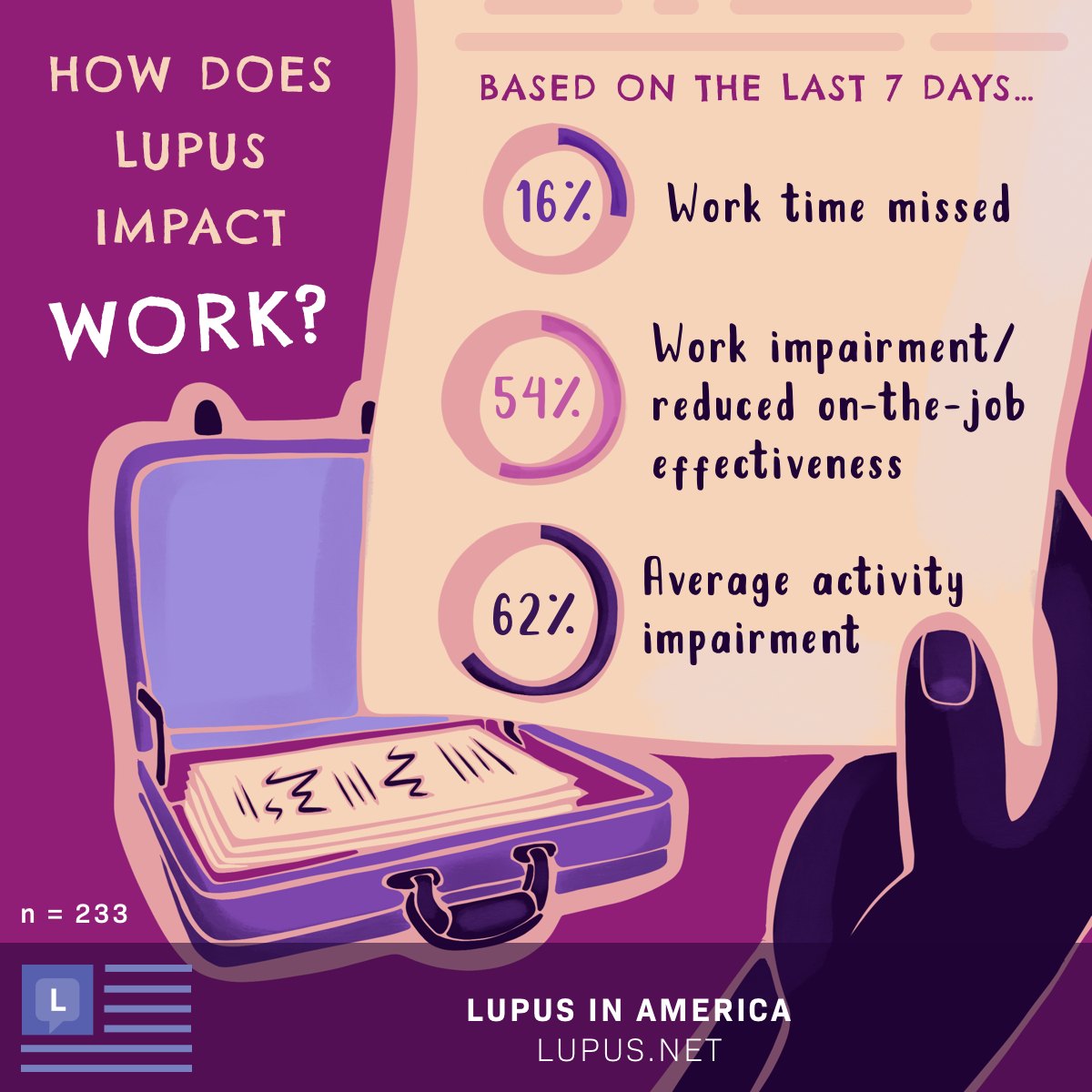 Mental health and lupus
Mental health is just as important as physical health. Of those surveyed, well over half of people report having anxiety and/or depression. Many feel lupus adds a new level of anxiety to their life. This is compounded by being unable to do the things they enjoyed before their diagnosis.
"Have few useable hours per day and life is completely changed to poor with this disease." – 2020 Lupus In America survey respondent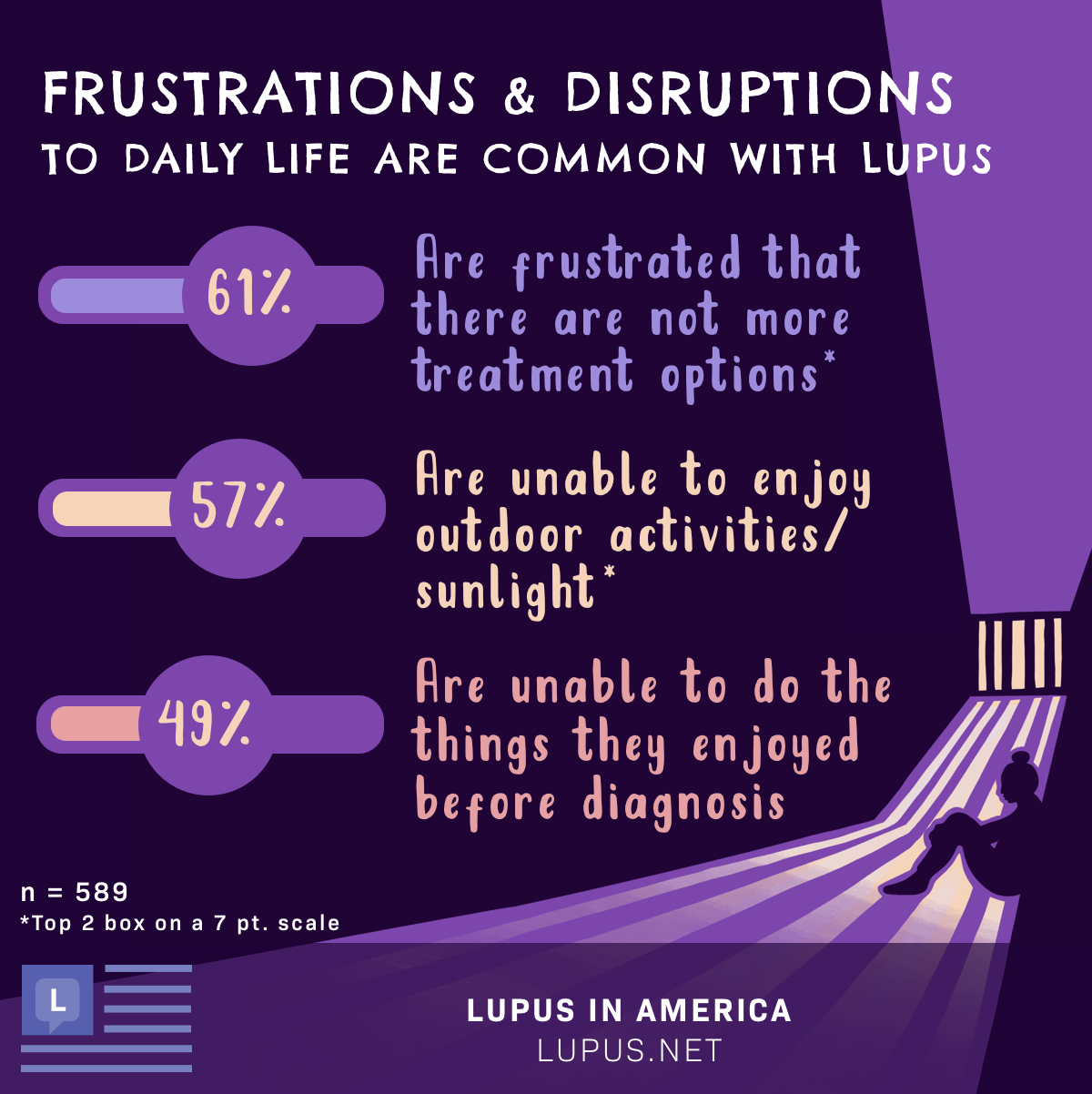 Family planning takes extra care
Women with lupus often wonder if having children is remotely possible. It is important to work with a healthcare provider before a woman plans to become pregnant because of the complications that could arise if lupus symptoms are not well controlled.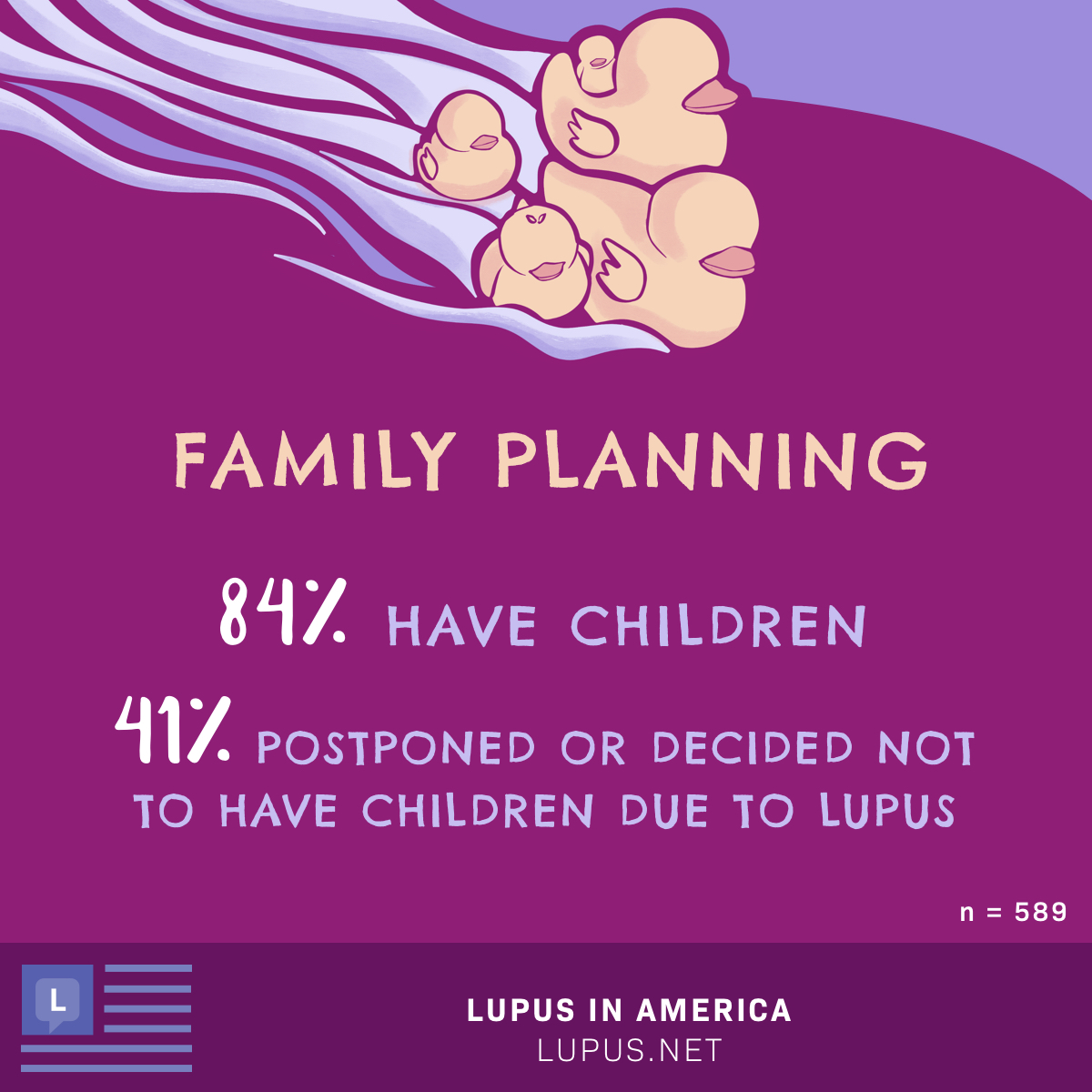 Lack of lupus symptom control
Despite evolving research, there is currently only 1 FDA-approved medication for the treatment of lupus. That could be why so few people cite their symptoms as controlled. Many seek alternative treatments such as vitamins and supplements, diet, exercise, and OTC medications.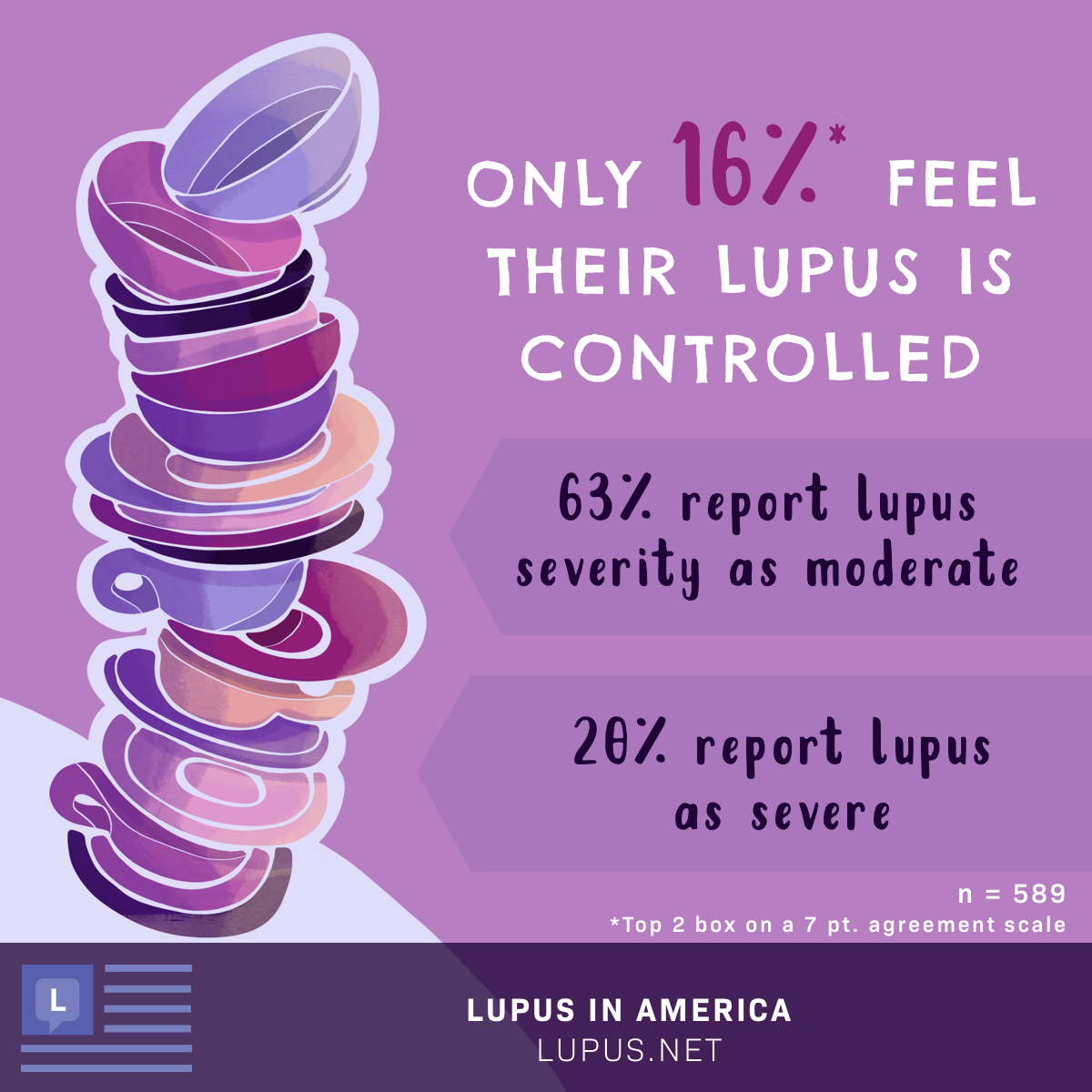 The Lupus in America 2020 survey was conducted online from January 1 through February 25, 2020. Of the 589 people who completed the survey, the average age was 52.5 years, with 61 percent being over age 50. All respondents were people who have been diagnosed with lupus.

Community Poll
Do you have any questions you'd like to ask a rheumatologist about lupus? Click submit and follow the link to ask.