My Lupus Advocacy Journey
Last updated: August 2023
"I have good news and I have bad news. That's what the doctor said to me in 1994 after he figured out what was wrong with me. I had been dismissed and misdiagnosed by many doctors. One doctor told me that it was all in my head, nothing was wrong with me, I just needed a good night's sleep and a vacation. Can you imagine a doctor telling you that? I finally found a rheumatologist who said that he would figure it out, and he did. Lupus!
Learning about lupus
I thought lupus was a death sentence, but it wasn't. I had never heard of lupus and was on my own to learn about it and how I was going to get rid of it, because I didn't know it was something that I would have for the rest of my life. I didn't find out and still don't know how I got lupus because there is no known cause and no known cure, but it can be controlled by medications and knowing how "your" lupus affects you. For those of us living with lupus it affects each of us differently. We don't have a cure yet, but research is ongoing and progressive so I'm encouraged.
The ups and downs of lupus
My journey with lupus has been filled with many ups and downs but I'm grateful to say that overall, I'm doing well. I have more good days than bad days. Lupus robbed me of my 20+ year career in Human Resources but I'm a full-time advocate with the Philadelphia Tri-State Chapter and have been involved since 2001. I teach a self-help course for those living with lupus and have been on the Board of Directors for years. Currently, I serving my second three year term on the National Board of Directors as a National Council Representative.
Lessons learned on my journey
I've learned that lupus can rob me of my career, but it can't and won't rob me of my voice. I advocate for those who may not be able to advocate for themselves. I speak up about lupus, so others won't have to go through the misguided journey that I did in trying to figure out what was wrong with my body. Lupus can hurt my body, but it can't and won't touch my soul or break my spirit. I have faith that everything will be ok and hope that a cure will be found so that I can proudly say that I used to have lupus!
I'm making lupus visible; won't you join me?" -Cheri, Philadelphia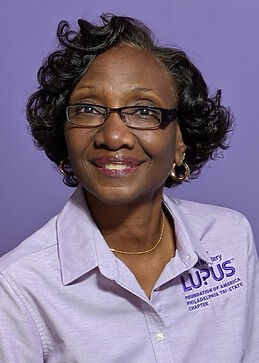 This article represents the opinions, thoughts, and experiences of the author; none of this content has been paid for by any advertiser. The Lupus.net team does not recommend or endorse any products or treatments discussed herein. Learn more about how we maintain editorial integrity
here
.

Community Poll
Have there been things you have learned along your lupus journey that you wish had been explained to you by a healthcare provider earlier?